How to Order
Choose a Package
Select the number of meals you require for the following week.

Pick Your Meals
Choose your meals for each batch - we deliver (or you pick up) twice a week.

We'll Deliver To You
Orders placed for delivery will be automatically selected to be delivered on the Sunday First Batch - between 11am and 7.30pm.

Second Batch - Delivered Wednesdays between 11am and 7.30pm

Business address deliveries are on Mondays and Thursdays 

Automated txt messaged will be sent out for delivery tracking.

If unable to make delivery please see our FAQ page.

https://www.enzonutrition.uk/faqs/
Enjoy Fresh Meals
Reheat your meals in the microwave for around 3-4 minutes (or until piping hot) and enjoy!

Customer Favourites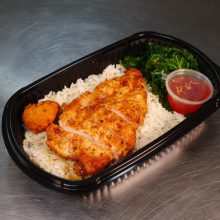 Butterfly cajun chicken, spicy rice and a serving of seasoned broccoli florets.
Spicy rice and a serving of seasoned broccoli florets.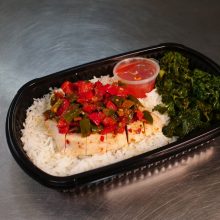 Healthy salt & pepper chicken served with basmati rice.
Served with basmati rice and a side of seasoned broccoli florets.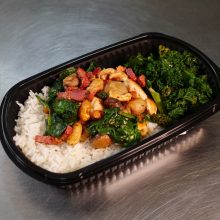 Chicken, mushroom, sauteed pancetta & cashew nut stir fry served on basmati rice.
Served on basmati rice with a side of seasoned broccoli.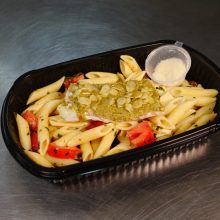 Baked haddock topped with pesto & almond (caprese pasta)
Served on a caprese pasta (mozzarella & fresh tomato).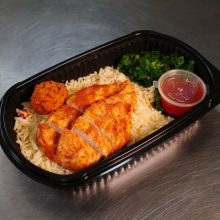 Smoked paprika butterfly chicken served on chorizo infused basmati rice with a side of seasoned broccoli florets. 
Served on chorizo infused basmati rice with a side of seasoned broccoli florets.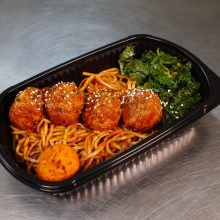 Tandoori turkey meatballs served with chinese egg noodles.
Served with Chinese egg noodles and a side of seasoned broccoli.
What our customers say
Loved every meal I was given by Enzo Nutrition, everything fitted into my macros and I will definitely keep going back for more. Easy on the stomach as well as the diet.
Nathan Jacks
Superb food, hand delivered and of the highest quality. You'd be hard pushed to find better.
Adam Martin
Used a couple other meal preps gets very boring eating the same old healthy but plain flavourless food. These are healthy and taste amazing If I went to a restaurant and got served food like this I'd be happy.
Ritchie Manifold
Oh my word…where do I start? I had the pleasure of enjoying a fresh, tasty and healthy meal from Enzo Nutrition which consisted of stuffed pork, broccoli mash and sweet chilli…who'd have thought of putting sweet chilli with a meal like this? Pleased to say it was a big hit! Definitely recommend.
Natasha Mckenzie
I have tried meal plans from different people and they have all been a bit bland so ordered a couple from here just to try and OMG they are amazing, so tasty and filling too. I find myself looking forward to my tea, can't wait to order more.
Joanne
Amazing healthy well-balanced meals, perfect for a busy lifestyle when you don't have the time to meal prep. These fuel me well for my very active lifestyle – parenting, running my own business, weight training and mixed martial arts training. Great combining the meals with the juices too for that perfect diet bursting with great macro and micronutrients.
Dom Davidson
Needed help with my meal prep as was struggling to find the time with busy week after a busy week. The guys at Enzo Nutrition were happy to help and gave me good advice with regards to my meal choices too. The variety of meals is second to none compared to what I've tried previously and I couldn't recommend them enough. Great tasting food from a local up-and-coming business. Thanks guys!
Phil Murray
I started ordering from Enzo Nutrition as I'd put a bit of weight on and wanted to try and improve my diet. I'm not very good at making my own food but with Enzo Nutrition I don't have to worry about that as it's all weighed, cooked and delivered to your door. It's also delicious and I'm looking and feeling better because I know I'm eating good, quality food.
Samantha
I work nights and meal prep is the best way for me to make sure I'm eating proper food. Tried one or two other companies before Enzo Nutrition but their menu is second to none. Been ordering about six months now and haven't had a bad meal yet.
Chris W
I had heard many good things about the food of Enzo Nutrition so decided to see what it was all about. Well where do I start..The protein pancakes were incredible, I'm going to have to try the other flavours. The amount you get is more than value for money. Choosing my lunch was hard..so many choices. Finally went for the chicken wrapped in Parma ham with pesto pasta, the flavours were amazing.
If anyone is debating whether they should try, do it. If you don't you are definitely missing out. Once you've been you'll be back to try more
Jenny A